Extravagant Trek to Alaska and Thereabouts: Day 4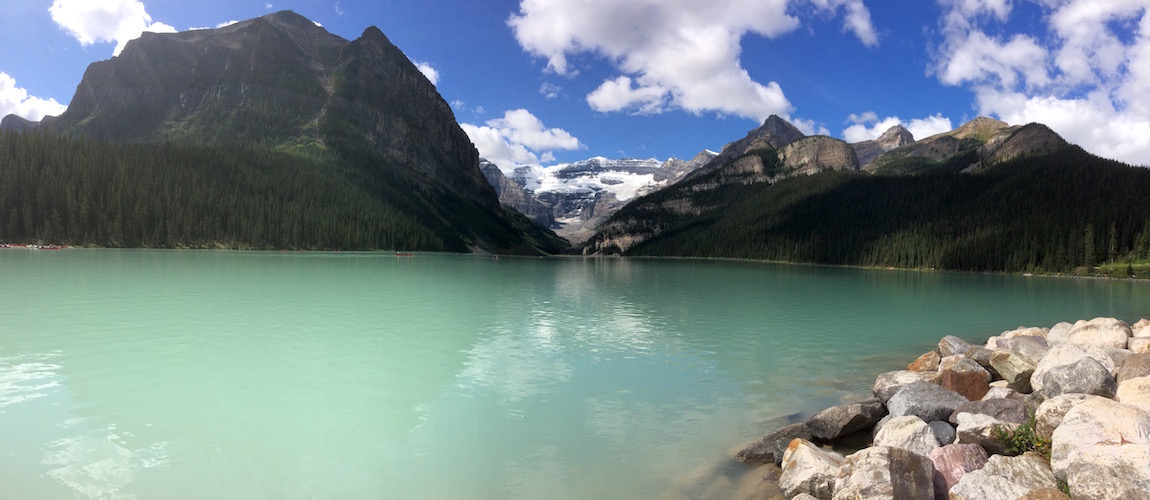 We awoke unscathed and groggy from our late night, washed ourselves with baby wipes since this campsite lacked showers, made breakfast, then departed toward Jasper National Park of Canada. On the way we stopped at Lake Louise, since it was "highly recommended" by every human imagineable. Well, everybody got the memo. There were more tourists here snapping photos of the lake than there are people tanning on Miami beach during Spring Break.
Our visit followed a brief gasoline fill-up nearby. After filling, I went inside to pay and Vee went to use the lavoratory. When we made our way back to the car, a nice lady on the back of a motorcycle felt obligated to impose herself upon us by sharing that she had been waiting to use the pump for ten minutes. I had no idea that she was in such a hurry to see a natural feature that has existed for hundreds of thousands of years. Had I known, I wouldn't have made her wait five minutes while simultaneously warping her perception of space-time by a factor of two.
In any case, back to Lake Louise. After a Nikkon-yielding psuedo photographer snapped several photos of us together in front of the majestic landscape, we did some auto-timed selfies since the only decipherable elements in the former were silhouettes. Afterward, we spent some time walking around the lake, filling our water bottles with fresh glacial spring water, and attempting to identify the strange, dark object in the snow on the mountain in the backdrop. At first, I thought it was a mountaineer and Vee thought it was a bear. Then, after some time and no movement, we decided that it was most certainly a rock. With fur.

We soon left Lake Louise eager to get to Jasper National Park. We exited onto the internationally-renowned Icefields Parkway, a several hundred-kilometer drive through a mountainous valley littered with bright blue lakes, more than fifty visible glaciers, and enough hiking trails to satisfy The Biggest Loser show for a hundred years. We decided to take one of these trails at Waterfowl Lakes. We spent more than two hours hiking about 10km through the beautiful, dense, and unadulterated forest to a waterfall, which we used to refill our water jugs. The water has a bit of a nutty flavor, but is incredibly refreshing. Afterward, we hiked back to our car and continued North.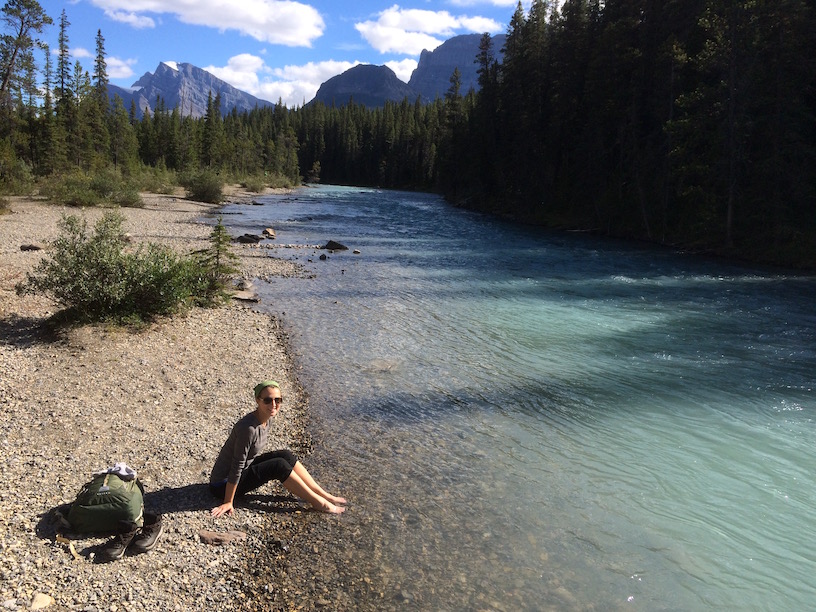 We took a pit stop at the Parkway Pub at The Crossing. We ordered a vegetarian burger and were surprised that we had to cook it ourselves. Made me wonder why we paid $14 and tipped the waitress. In any case, I tried the Grasshopper Wheat Ale by Big Rock Brewery in Calgary, Albert, and it was a very good wheat ale, a nice exception to my assumption that all beer made in Canada sucks, based on the four or five I had already tried.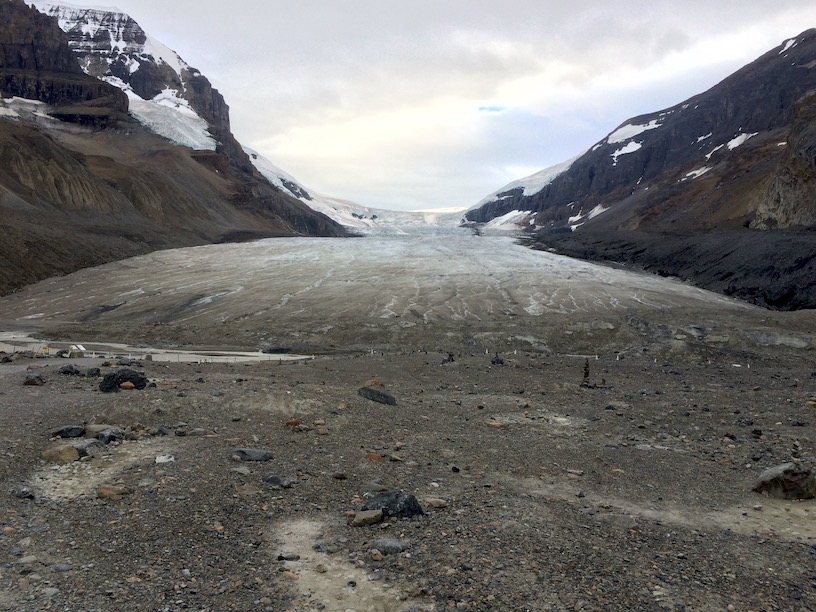 We continued further north to the Columbia Icefield. We went into the Brewster Attractions building across the street from the Athabasca Glacier. When we purchased tickets for the Gondola in Banff (serviced by the same company), we bought a package deal that included a "Glacier Adventure" and "Glacier Skywalk." The former is a trip onto the Athabasca Glacier, which you can otherwise not walk on due to the presence of dangerous crevasses, which a nine-year-old boy fell into in 2001, dying from hypothermia before the three- hour rescue attempt pulled him out. The latter is a museum/interpretation center that features an all-glass bridge over a valley with a brilliant shot of several mountains part of the Columbia Icefield. While these sound exciting, we weren't given arrival times when purchasing the tickets. By the time we made it onsite, we missed the last bus by five minutes. And even though the interpretation center was just a half kilometer down the road, they would not allow us to join because there is no parking and admission is by tour bus exclusively. This was our only day for these activities, so we were really bummed. As if that wasn't bad enough, they refused to refund us for the tickets because policy. Now that's a reason with which I can empathize. Their recommendation was to try selling them, or to come back before they expire in October. Well, we're not likely to come back any time soon, but even if we would we wouldn't be supporting Brewster. And it's not because we missed our opportunity. Yes, it would have been helpful to have been told a time, or at minimum the very last time available. After all, there were at least three hours of daylight after their last scheduled departure, so our assumptions weren't unreasonable. What upsets me is the no refund policy. In my eyes, if they don't refund my money, which amounts to about $140 CAD, they're committing theft because they failed to provide a product or service in exchange.
Upset and diminished, we walked over to the Athabasca Glacier ourselves to check out the scnerey, and to attempt to sell the tickets. Though we're not very successful salespeople, we enjoyed the glacier immensely. I learned that the glacier used to cover the road and the parking lot and building for Brewster. Over the last several decades it has receded by nearly half, which scientists who study it attribute to global climate change caused by humans.
We had only two hours before dark, so we continued on the Icefield Parkway to our campsite at Pocohontas, which turned out to be much further away than we thought. On the way, we had to dodge wild… wait for it… human beings, who temporarily subscribed to idiocracy by parking in the middle of the road, driving on the wrong side of the road, and getting out of their cars. Why? Because there was a moose eating grass.
We eventually made it to our campsite. While checking in, we were a little perturbed by a warning given to us by the warden. She warned that there are a number of black bears currently roaming the area. Next to the building was a bear trap, with a live bear inside. YOLO, amirite? We set up camp, made dinner, and even managed to kind of get a fire started. Then we looked up. The skies were completely clear. I've never seen so many stars before!
Will we survive the night? Stay tuned to find out…
P.S.: Anyone want tickets to do the Athabasca Glacier adventures by Brewster?