Extravagant Trek to Alaska and Thereabouts: Day 2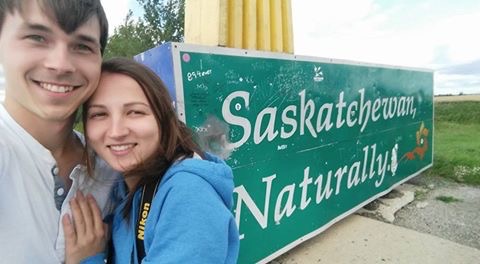 We awoke in Riding Mountain National Park of Canada alive and unscathed by the 1000 bears that thrive in the park, (as we learned after we left.) We showered and got ready for the day in the park's extraordinarily nice facilities. The bathrooms were heated and the showers were hot. Vee used the potatoes she made the night before and made a breakfast skillet for the both of us, which we washed down with some Earl Gray. As she cooked I packed the tent, and we were eventually on our way.
There's really not much to be said about our commute into Saskatchewan. There was quite a bit of "big sky country" scenery, but it remained that way for hundreds of kilometers.
When we arrived in Regina, we stopped by a restaurant called Earl's, which I think is a Canadian chain restaurant. It was very nice inside and they had free wi-fi! We started off with the house pale ale, which was brewed in Saskatoon by the Earl's brewery, served in 1.5L glasses, which is massive! The ale tasted to me closer to a pale lager, and I couldn't finish it. Vee really liked it though, and finished hers and most of mine. Needless to say, it was I who drove the next few hours while she napped the buzz off. ;-)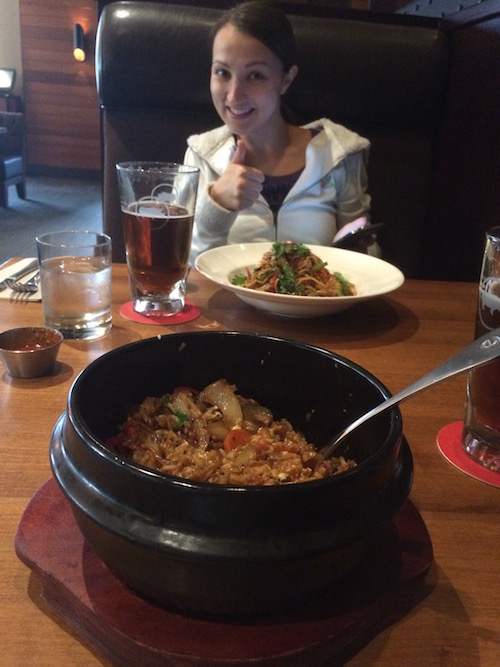 In any case, Vee ordered the Kung Pao and I ordered the Bibimbap. The dishes were very delicious and moderately spicey. I'd recommend the food, most certainly, even for the higher-than-average price. After lunch, we refilled our water at the local Co-Op and went on our way westbound.
After a few missed turns and several construction corridors, we made it to Sceptre, Saskatchewan, the gateway to the Great Sandhills. Unsure of how to get to the sandhills, we simply found a campgroud, walked about the town (which consisted of perhaps 30 total buildings), and got ourselves ready for bed.
Tomorrow we will see the Great Sandhills before directing ourselves toward Manitoba and the world-renowned Banff National Park of Canada.