Extravagant Trek to Alaska and Thereabouts: Day 8

As though I didn't feel on top of the world already, having seen and done so many new and beautiful things on our roadtrip to Alaska, we were about to take the world- famous Top of the World Highway. From the campground on the other side of the Yukon River from Dawson City, we headed west on this poorly-maintained, mostly dirt road to the Yukon-Alaska border. It was two hours of beautiful vistas on winding roads, though for us overcast and frigid. Near the Canadian side of the border, we reached the pinnacle of the highway: the highest point. We got out of the car and hiked the short, but steep path to the top of the hill. We had a 360º view of the world beneath us–we truly were at the top of the world. The site is marked by a set of rock piles, the largest about a meter tall.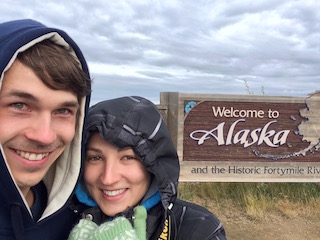 The border itself was a breeze to get through. It's literally only open from 8am to 8pm (9am to 9pm Canadian time), and only during the summer months. There was just one border patrol officer. She asked us a couple questions about what we had with us, so Vee and I started talking to each other trying to figure out where we bought what vegetables, etc. The patrol lady just ushered us to move ahead. So that's what we did. We stopped a quarter mile ahead to snap a photo of ourselves in front of the Welcome to Alaska sign, then continued onward.
The road was very nice, paved even!, though for just twelve miles or so. Then it turned back to gravel. It was in much rougher shape than the Canadian side was. There were potholes everywhere, and the turns were very sharp. We saw one camper in the trees below the road on one of the turns, which must have slid off. Within a few miles, we made it to Chicken, Alaska where we stopped to get gas ($4.12/gallon!), used their Wi-Fi, bought some souvenirs, and ate breakfast at the little café across the lot.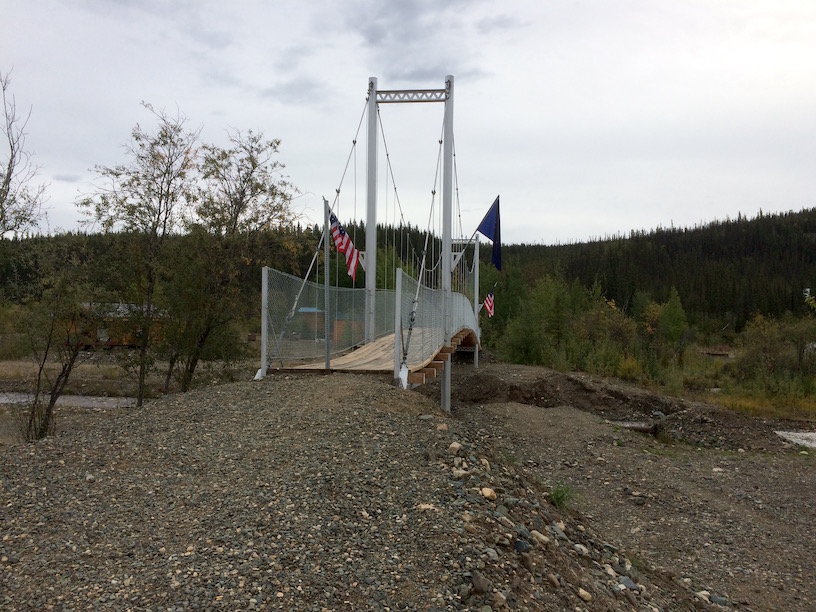 Chicken is an interesting town. There are about 12 permanent residents, year-round, and the entire town is completely off the grid. They have a single generator for the area and run exclusively on solar energy. The gift shop is the only place in Chicken with flush toilets. Nevertheless, the people were very friendly and welcoming. We decided that we had our fill, so-to-speak, of Chicken, so we turned down the offer to pan the creek for gold, and continued on our way to the Tok junction, where we proceeded west on the Alaska Highway.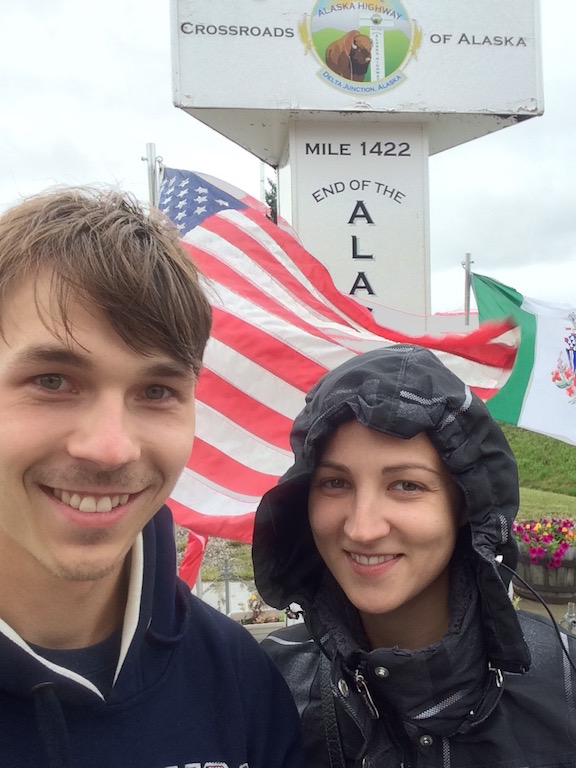 We stopped in Delta Junction to commemorate the completion of the Alaskan Highway, even though we skipped a portion to do Top of the World Highway. We stopped at the gift shop to buy more shit and enjoy their free tea (they have free coffee too!) After chatting with the staff and looking at their museum display, we proceeded toward Fairbanks.
On the way, I managed to get pulled over for speeding. The officer purports that I was travelling 11 miles per hour over the speed limit, in a 65 mph zone. I'm still trying to figure out how that could be, given that I had my cruise control set to 70. I rounded a corner and saw him approaching me… in my lane. He quickly cut in front of the "law-abiding" citizen he was passing. Then, I postulate he slowed down to a stop in front of the individual he cut off, before cutting in front of all the cars behind me in order to pull me over. After all that, it was I who was an unsafe driver? I fully intend to contest this one.
Annoyed until we found beer, we eventually reached Fairbanks, which is a small, but bustling community of hipster culture with an outdoors vibe. I was reminded quite a bit of Portland, Oregon, and also a bit of Madison, WI, where I currently reside on a less nomadic basis. We stopped at Hoodoo Brewing Company, a must-see for anyone visiting Fairbanks! The beer was fantastic, and the feel of the place was very rustic. We shared their beer sampler, which comprised of four 4oz "flutes" containing their German Kölsch (ABV: 5.1% IBU: 25; 4 out of 5), "I'll Have Another" Rye Saison (ABV: 6.5% IBU: 42; 4.5 out of 5), American IPA (ABV: 7.2% IBU: 73; 5 out of 5), and Belgian Golden Strong Ale (ABV: 8.4% IBU: 30; 3.75 out of 5). I also learned that in Alaska, state law prohibits the sale of more than 32oz of beer, per person, per day.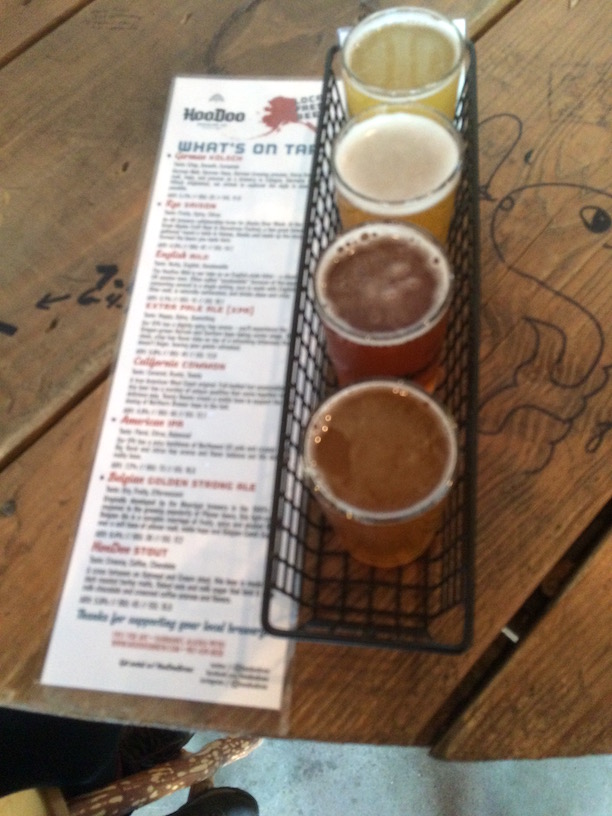 Now mildly buzzed with dusk approaching, we found a campground on the state fair grounds, which had all the amenities (showers, laundry, etc), but lacked that remote feeling we've had all the while on our trip. In fact, as we were preparing the campsite, we could hear the melodious bassline of a gangster rap song bumping from a car trunk nearby.
After setting up camp, we did a little grocery shopping at the nearby Fred Meyer since we were still out of water, did a little laundry, then eventually went to bed. Fun fact: It was still light out by the time we went to bed at 11pm Alaska time (+3 hours from Central Time).